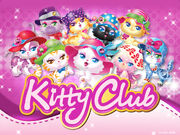 Kitty Club is a toy series produced by Dracco, the makers of the popular Filly series, as well as Anipals, and Pop'n Shop. They even produce candy and other series based on their established brands or other popular brands.
Kitty Club follows the adventures of Kitty as she enjoys her brand new life at Kitty Heart Lane.
I'll never forget the day I moved to Kitty Hear Lane! My life was turned upside down: I met some amazing new friends - and some other kittens I wish I could forget!
No day in Kitty Heart Lane is ordinary. You see, I am no regular kitten... I am a fashion designer! Like me, my friends also have exciting, glamorous jobs! In the house riht next door lives one of my best friends, Claire, who is a florist. I know she can be a little bit zany, but she truly has a heart of gold - and a great sense of fashion!
One day, Claire and I got together with our closest friends, and created a secret group called the "Kitty Club". Now, all the other kitties on Kitty Heart Lane are part of it, so it's not so secret anymore!
"Kitty Club" is all about fashion, chatting and best friends. There is always room for more members - but of course not just anybody! Members of the Kitty Club like dressing up, going out and most of all, having fun!
Come and visit me in Kitty Heart Lane and meet all the wonderful and stylish cats living here!
- Excerpt from website in the pov of Kitty.
Characters
Edit
See Kitties