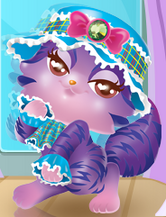 Hannah is one of the Kitty Club members on Kitty Heart Lane.
Personality
Edit
Hannah is the overly-friendly baker everyone can turn to in times of need. She struggles to refuse or turn down requests; unable to even say "no". Due to this she has a tendency to accidentally get into trouble.
Appearance
Edit
Hannah has plum-colored fur with a gradient of light purple and lavender on her face, paws, and her entire foot. Dark indigo stripes in sharp or lightning bolt shapes cover her body, and she has a very puffy tail. She has almond colored eyes and wears dark brown mascara and lilac eyeshadow. Her nose is orange.
Hannah wears a blue hat with white frills lining it to match the wrist-lets she wears. Around the middle is a cyan band, also lined with frills and a white, yellow, and red check pattern adorned with a fuchsia bow. An emerald rests in the middle. On her neck is a ruffled cravat to match the design of her hat.
Merchandise
Edit
The official art of Hannah on the collectors paper in the Foil Bag gives her orange eyeshadow and brightens her colors.
Her foil figure lacks the lighter purple coloring on her body and gives her orange eyes.