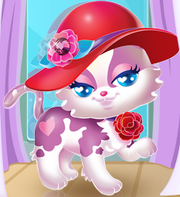 Elizabeth is one of the Kitty Club members on Kitty Heart Lane.
Personality
Edit
A beautiful model used to the finer things in life. She is a total perfectionist and is unwilling to settle for anything beneath it.
Appearance
Edit
Elizabeth is a white cat with light purple markings covering most of her torso with a few loose spots. Her eye markings are lighter with her entire tail being the same color with a few white spots on it. She has a dark pink nose and blue eyes with dark indigo mascara and pale pink eye shadow. On her hip is a pink heart marking. 
She wears a red sun hat with a thin purple ribbon and a pink ornate flower that has turquoise leaf and an amethyst gem in the middle. On her neck is a thin purple collar with a red rose.
Merchandise
Edit
Her foil figure has a star marking on her body, rather than a heart. It also lacks her eye markings and incorrectly colored her tail. The ornament on her hat is also green.
Her body coloring resembles that of a cows.
Ad blocker interference detected!
Wikia is a free-to-use site that makes money from advertising. We have a modified experience for viewers using ad blockers

Wikia is not accessible if you've made further modifications. Remove the custom ad blocker rule(s) and the page will load as expected.