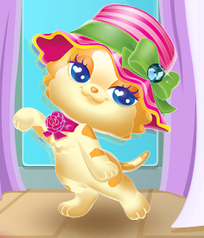 Claire is Kitty's best friend and one of the kitties of Kitty Club.
Personality
Edit
Claire is known for her beautiful bouqets and works as a florist. At times she can be a bit goofy or zany, but she has a heart of gold. She helped Kitty find the Kitty Club and shares her sense of fashion.
Appearance
Edit
Claire has pale, cream-colored fur with stripes of gold all over her. She has a slightly fluffy chest and cheeks, and deep blue eyes with pale orange eyeshadow. Her nose is gold and she has a thin, short tail.
Claire wears a hot pink and pale pink striped hat with dark yellow lining around the bottom. Around the middle is a thick green ribbon tied into a bow held with a sapphire gem. On her neck is a violet ribbon with a flower sewn to it.
Merchandise
Edit
Foil Figure
Kitty Clubhouse
Florist Set
On the official website, the band of Claire's hat is colored on the figurine. But in the foil bag art it is not colored.
Ad blocker interference detected!
Wikia is a free-to-use site that makes money from advertising. We have a modified experience for viewers using ad blockers

Wikia is not accessible if you've made further modifications. Remove the custom ad blocker rule(s) and the page will load as expected.