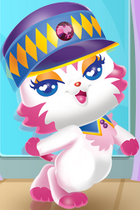 Britney is one of the Kitty Club members on Kitty Heart Lane.
Personality
Edit
As a hopeless romantic, Britney is always dreaming of her purrfect prince. She longs for the day she will meet him and hopes it will be very soon!
Appearance
Edit
Britney has white fur with pale pink fluffy material on her chest. Her fluffy cheeks, head, paws, and most of her tail have magenta coloring. She has a magenta nose and bright blue eyes with darker mascara and gold eye shadow. She wears a blue collar lined in yellow with two buttons in the center, along with a purple marching hat lined in yellow. Around the middle is a thick navy band with a line of yellow diamonds linked together, adorned by a violet gem.
Merchandise
Edit
Britney is one of the two purple hat kitties not to have a topaz gem. The other being Chloe.

Ironically they both have purple gems instead.

Britney's figure lacks most of her markings, and gives her purple eyes. Her accessories are also very simplified.